I'm super excited to announce that I am one of many comedians who has an essay in the badass new book, Laughing Liberally: Letters To The American Voter! And it's available now!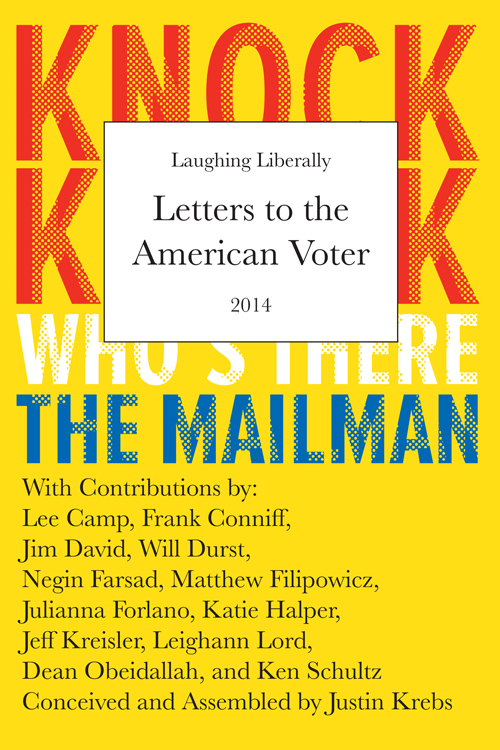 Here's the book's description:
This election season we want you to vote. We also want you to laugh.
This collection of comedic essays will jolt you out of today's political doldrums. The comedians of Laughing Liberally have tackled today's toughest topics with wicked wit, satiric savvy and left-leaning zest.
Immigration, climate change, gun control, economic inequality, the Right-Wing War on Women, Islamophobia, civil rights and corporate oligarchy are just a handful of the subjects in this wide-ranging, spirit-lifting, thought-provoking and irresistible collection. Your bleeding-heart is sure to pump a little more liberally as we help carry you through the 2014 midterm elections and beyond.
The book features contributions from: Lee Camp, Frank Conniff, Jim David, Will Durst, Negin Farsad, Matthew Filipowicz, Julianna Forlano, Katie Halper, Jeff Kreisler, Leighann Lord, Dean Obeidallah and Ken Schultz–comedians you know from Comedy Central, NPR and the Broadway stage, who have been fighting the good fight across the country, and promoting democracy one laugh at a time.
Laugh along with them–order the book today:
http://laughingliberallythebook.com