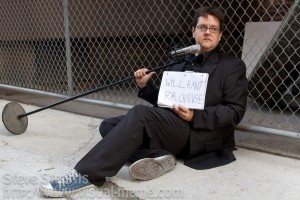 Matthew Filipowicz, the host of the Matthew Filipowicz Show, is a comedian, cartoonist and satirist.
Before starting his own talk show, Matthew was a regular contributor and sometimes guest host for Ring of Fire Radio with Mike Papantonio and Robert Kennedy, Jr.. For close to three years he created a daily, satirical political cartoon for the website Headzup.tv.
His work has been featured on CNN, NPR, PBS, HBO, BBC, Ain't It Cool News, the New York Times, the Wall Street Journal, the Atlantic, the Nation, the London Times, the Thom Hartman Show, RT TV and countless sites in the liberal blogosphere including Crooks and Liars, Daily Kos, the Huffington Post, and many more.
He has created videos for MoveOn.org, the Nation, Mother Jones, the Center For Media and Democracy, the Young Turks, the ACLU-SC, Netroots Nation, Vote Vets, the National Conference for Media Reform, NYSUT, and many other progressive organizations.
Matthew is the national coordinator for Laughing Liberally and has founded and directed chapters in Chicago, Boston, and currently, Milwaukee.