Episode 57 of the Matthew Filipowicz Show is now available to stream and download.
Audio clip: Adobe Flash Player (version 9 or above) is required to play this audio clip. Download the latest version here. You also need to have JavaScript enabled in your browser.
Coming up on today's show, we'll be talking to John Gallagher of Occupy Chicago about the mass arrests that happened this weekend at Grant Park.
We'll also be talking to David Lehnert and Gregg Housh of Occupy Boston about what has happened at Dewey Square since they were raided by the police a week ago yesterday.
We also have my good friend Cliff Schecter back on the show to talk about his latest article for Al Jazeera on the right wing's empty worshiping of idols in the United States.
Plus we have the world premiere of the trailer for Michele Bachmann: The Movie.
We'll also be discussing the amazing confrontation between a US Marine and the NYPD, and why the Occupy movement should reach out to veterans, firefighters, and police officers to join their ranks.
Our writer/performer today is Josh Bolotsky.
Remember, you can subscribe and podcast the show for free on iTunes and at www.matthewf.net.  You can follow the show on Twitter and Facebook.  You call the listener hotline at 617-855-TMFS.  You can support the show by becoming a member.  We have new shows every Tuesday and Thursday.
-Matt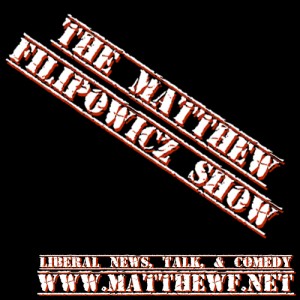 Tags:
Al Jazeera
,
Chicago Police Department
,
Cliff Schecter
,
Comedy
,
David Lehnert
,
Dewey Square
,
GOR
,
grant park
,
Gregg Housh
,
Idols
,
John Gallagher
,
Josh Bolotsky
,
Liberal
,
Mass arrests
,
Matthew Filipowicz
,
Michele Bachmann The Movie
,
Occupy Boston
,
Occupy Chicago
,
OccupyBoston
,
OccupyChi
,
OccupyWallSt
,
OWS
,
Parody
,
Politics
,
Progressive
,
Radio
,
Rahm Emanuel
,
Republican
,
Satire
,
Talk
,
Trailer
Your Comment
You must be logged in to post a comment.